Swedish national DSO eyes $1 Billion investment in northern Sweden's electricity grid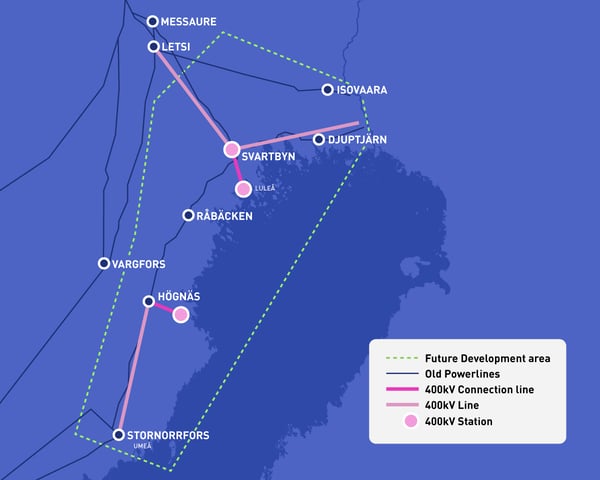 January 27, 2022
Svenska Kraftnät, Sweden's national Distribution System Operator, is planning to strengthen the electrical grid of northern Sweden with a ~$1 billion investment. The expansion would increase the available capacity in the region by 5000MW and allow for the connection of another 4000MW of renewable energy production.
The enormous influx of energy-intensive establishments in northern Sweden, ranging all the way from data centers to steel manufacturing, has created an urgent need for expansion of the electrical grid in the region. Driven by the demand for green and competitively priced energy, both sector incumbents and ambitious pioneers have found northern Sweden to offer the needed resources to take leadership in the green industrial revolution.
"We are very pleased to see that Svenska Kraftnät understands the importance of their role and investments in strengthening the grids in northern Sweden. This will ensure that we can continue to offer energy-intensive establishments access to green and cheap energy for the foreseeable future" says Christoffer Svanberg, CEO of Node Pole.
In addition to the planned $1 billion investment, the project ("Fossil Free northern Norrland") also entails an ambition of increasing the pace of roll-out. Historically, grid projects have taken around 12-15 years from plans to finalized construction. This time around, Svenska Kraftnät hopes to reduce this time by half, allowing for a complete roll-out of the new project in just around 7 years.
"We are already short of time to make the needed changes to save our planet. These ambitions to expand the grid faster than previously possible is very welcome, and will ensure that northern Sweden can continue to lead the green industrial revolution, and have a global impact on the climate. This also shows the commitment of the Swedish government to support the private sector in their climate efforts" Christoffer adds.
What does this mean for your company? In reality, this investment enables establishments equivalent to 50 new average-sized paper mills before 2030. With industry leaders from data centers to mining and many others already established in the region, the investment interest and opportunities are growing and we are ready to welcome new companies. If you are interested in starting the process of reserving land and preparing it for the grid in time, do reach out today and we'll have an initial chat about tailored possibilities for your company.
Contact