Sweden's position as Europe's green industrial hub reinforced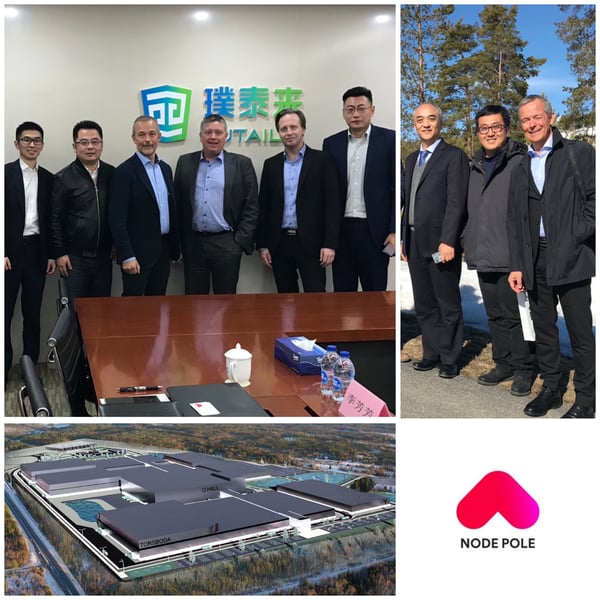 May 04, 2023
Shanghai Putailai (PTL), a world leading provider of battery materials, has announced that they will build their latest anode factory in Torsboda Industrial Park, in central Sweden. The factory is planned to be up and running by 2025-2026 and is expected to generate 1900 new job opportunities.
"Today's announcement shows that dedicated and long-term work pays off. Since I met PTL for the first time in April 2019, I've been impressed by their dedication and long-term approach, evaluating alternative sites and concepts. I´m delighted to be part of the successful "Team Sweden" in general and specifically "Team Torsboda" that finally won this exciting establishment", says Magnus Wikman, CCO at Node Pole who has been involved in the process.
Node Pole has, together with representatives from High Coast Invest, Business Sweden, the relevant municipalities amongst others, been a vital part of "Team Sweden/Team Torsboda" in landing Europe's largest anode production plant, which is also PTL's first anode factory outside of Asia.

Photo: Magnus Wikman, Rick Abrahamson, both from Node Pole, and Mikael Aamisepp, from High Coast Invest, visited the PTL headquarters in Shanghai in November 2019 along with Roderick Xu from Business Sweden, who arranged the meetings. (Photo by Node Pole).
PTL will now be the fourth asian supplier, with their production in Sweden, to the produce materials for Northvolt, the Swedish battery manufacturer. The plant in Torsboda will have a capacity of 50,000 tonnes of anode material in the first phase. In phase 2, the capacity is doubled by an additional 50,000 tons in order to deliver anode material equivalent to a battery production of 100 GWh.
"We are very proud to be able to enter into a long-term collaboration with Torsboda Industrial Park. It is an important step for PTL's establishment plans in Europe. We look forward to running the world's most modern and most sustainable anode factory while making a positive contribution to the local business community and society", says William Chen, CEO of PTL.
The news of this establishment is once again a testament to the important role that Node Pole play in attracting sustainable investments to this green part of the world.
"Again Sweden is leading the way by securing the role as the hub of the green battery production chain in Europe. The PTL establishment will secure and provide the battery industry access to anode materials with a low carbon footprint, at the same time as it attracts more companies within the battery industry to establish in Sweden", concludes Magnus Wikman.
About PTL:
Shanghai Putailai (PTL) serves the lithium-ion battery market, which is in the key industrial links related to clean energy, energy conservation, environmental protection and efficient energy storage. PTL was established in November 2012 and listed on the Shanghai Stock Exchange in November 2017.
"We continuously forge ahead for the cause of clean energy, energy conservation and environmental protection."
- Shanghai PTL New Energy Technology Co., Ltd.
About Torsboda Industrial Park:
Torsboda Industrial Park is located on the coast of the Bothnian Sea at the geographical centre of Sweden. The site, on over 150 hectares, produces 450 MW of green energy at one of the lowest costs in Europe.
Photos: Torsboda Industrial Park website
Contact