Northvolt & Volvo set to build new Giga factory in Gothenburg, Sweden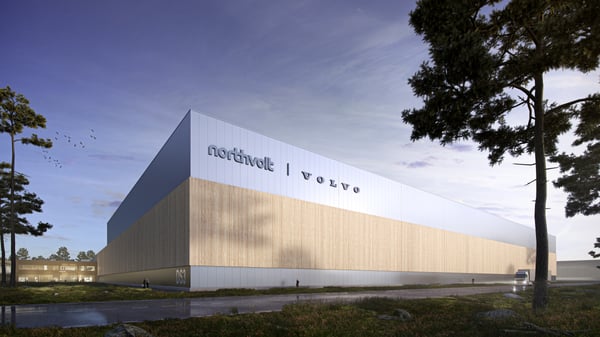 February 04, 2022
After a long site selection process, Volvo Cars and Northvolt have selected Gothenburg to establish a new 50 GWh battery manufacturing plant which will commence operations in 2025. The new factory will produce battery cells for around half a million vehicles a year and is expected to employ around 3000 people in the region.
The rapid transition towards electrical vehicles have greatly increased demand for battery capacity and is expected to continue to do so for a foreseeable future. As such, batteries and battery competence have become a key resource for car manufacturers, and many have begun seeking partnerships with leading battery manufacturers.
"Our battery cell partnership with Northvolt is key to our strategic ambitions in electrification," said Håkan Samuelsson, Volvo Cars chief executive.
The partnership with car manufacturers is also a key to generating impact and striving towards Northvolt's vision of becoming world-leading in sustainable batteries.
"Establishing this gigafactory in Gothenburg is a decisive move, both to continue to transform one of the most dynamic automotive regions in the world, and to become the leading global supplier of sustainable batteries", said Peter Carlsson, Co-Founder and CEO of Northvolt.
In an electrical vehicle, the carbon debt of the battery pack is a significant part of the total carbon lifecycle emissions of a car. Reducing the carbon footprint within battery production is, therefore, a crucial step in making electrical vehicles become truly sustainable. Both battery manufacturers and automotive manufacturers around the world are working hard and looking anywhere they can find to gain an advantage and get their hands on the most sustainably produced batteries.
"Even though both the companies have a Swedish heritage, they most definitely both have global ambitions and connections. The fact that they despite this still choose to locate their new establishment in Sweden goes out to show the strength in what Sweden has to offer energy-intensive industry establishments, and how we can help them achieve both their business- and sustainability visions." – Says Christoffer Svanberg, CEO of Node Pole
The construction of the brand new SEK 30 Billion factory will begin in 2023, and is aiming to commence operations in 2025.
Contact